NativeAudio Mint Drive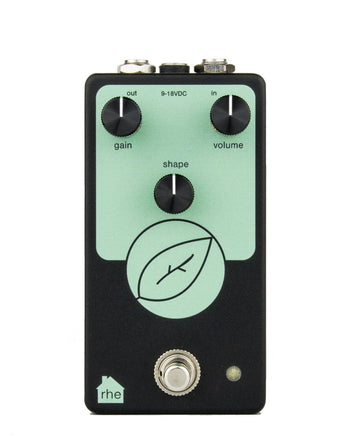 Limited Production (only available at NativeAudio.com and participating independent dealers)
The Mint Drive™ v3 is a fresh take on a NativeAudio® classic that provides a crisp and sweet overdrive crunch. The streamlined interface includes volume, gain, and shape controls for a refreshing overdrive experience. The updated design improves upon on its predecessor with hybrid-LED soft clipping, pre-gain low-pass filtering, and an expanded range in both gain and tone. The Mint Drive™ works equally well as an always-on tone sweetener or in conjunction with other dirt pedals to create harmonically rich tones.
Features:
Expanded gain control delivers a collection of dirt tones from a classy transparent to an amp-like grit

Hybrid-LED clipping to maintain bass clarity while providing a dynamic response.

Soft and symmetrical clipping to provide a smooth and more sustained overdrive sound.

Custom graphics pay tribute to an initial, short-run version of the Red House Electronics Mint Drive™ v2.

9-18VDC operation provides adjustable headroom for additional overdrive capabilities.

Smart switching system that provides standard on/off latching and momentary operation.

Top-mounted instrument and power jacks to save pedal board space.

Buffered-bypass design to optimize signal integrity with any instrument cable length.
Power: 9-18VDC, 22mA (center negative)
Dimensions: 2.6''x4.77'' (W x L)
About the Artwork.
In 2014, the Mint Drive™ was our first step into the pedal world under our previous company name, Red House Electronics. The Mint Drive™ v1 featured a mint green enclosure, chocolate brown knobs, and a melting ice cream graphic. A year after its release, the Mint Drive™ received a makeover for v2 that included a simple, single-color graphic printed on a black enclosure. The updated design helped establish the aesthetic for all future NativeAudio® pedals. In 2018, the Mint Drive™ was discontinued following the rebranding from Red House Electronics to NativeAudio®.
-Mike Trombley, Founder