MusicNomad Acousti-Lok Strap Solution for 3 Screw Output Jacks & End Pins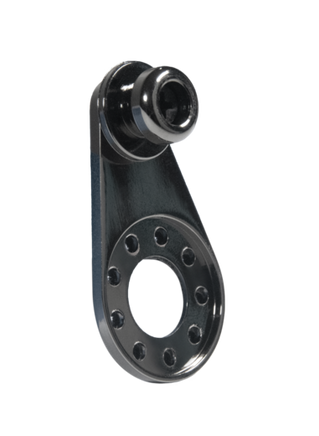 A Strap Solution to Give You Extra Security on Your Acoustic Guitar.
Specifically Designed for 3 Screw Output Jacks & Endpins found on TAYLOR® Guitars with ES-B™ or ES-Go™, TAYLOR® GS Mini® without Electronics, TAKAMINE® Guitars and YAMAHA® Guitars and more.
2 'n 1 Button To Use with SCHALLER Strap Locks (Sold Separately) or Reverse Button for QuickSecure Non-Strap Lock Solution
Strong Solid Brass, Black
TAYLOR®, GS Mini®, ES-B™, ES-Go™, TAKAMINE®, YAMAHA®, SCHALLER® and all other third party brand names are trademarks of their respective owners. Music Nomad LLC is not affiliated with those owners, nor claims ownership of those marks.
Product Story
You can finally let go! MusicNomad's patent pending Acousti-Lok is a strap lock adapter that adds the safety & flexibility of using strap locks to your TAYLOR® acoustic guitar without permanently modifying it. Designed to be used with SCHALLER® style strap locks (not included), Acousti-Lok's strong solid brass keyhole ring construction gives you the security you have been looking for. With different Acousti-Lok designs to choose from, make sure you find the one that is compatible with your acoustic guitar output jack. This will not fit TAYLOR® Guitars original AA battery powered EXPRESSION SYSTEM®.