DigiTech Whammy Pitch Shifting Pedal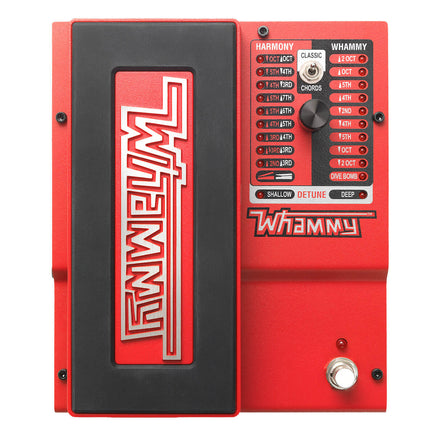 Whammy Pitch Bending Effects
The DigiTech Whammy brings you the same hair-raising "dive bomb" effects, gripping pitch bends and lightning harmony shifts you are looking for plus a few new twists. Bend entire chords with the new chordal pitch shifting setting, and execute classic single note bends.
Classic Whammy Interface
The Whammy interface features the same legacy Whammy pitch bending options you're accustomed to along with some additional pitch bend settings from the Whammy DT.
MIDI In for Remote Control of Whammy Effects
The Whammy features a MIDI input for receiving incoming MIDI data. MIDI messages can select a Whammy or Drop Tune effect and set whether these effects are in an active or bypassed state. MIDI CC messages can then be used to control the Whammy Expression Pedal position.
WHAMMY
SPECIFICATIONS
| General Specifications | |
| --- | --- |
| SAMPLE RATE | 44.1 kHz |
| FREQUENCY RESPONSE | 20 Hz to 20 kHz |
| SIGNAL TO NOISE RATIO | > -105 dB (A weighted); ref = max level, 22 kHz bandwidth |
| THD | 0.004% @ 1 kHz; ref = 1 dBu w/ unity |
| A/D CONVERSION | 24 bit |
| D/A CONVERSION | 24 bit |
| POWER CONSUMPTION | 2.4 Watts (< 265 mA @ 9 VDC) |
| POWER ADAPTER | 9 VDC External Adapter |
| TRUE BYPASS | Yes. With true bypass circuitry, the whammy is completely bypassed when both Whammy and Drop Tune effects are off. |
| Dimensions | |
| --- | --- |
| HEIGHT | 2.5" (64mm) |
| WIDTH | 6.5" (165mm) |
| DEPTH | 7.75" (197mm) |
| Audio Output | |
| --- | --- |
| OUTPUT TYPE | 1/4" Unbalanced TS |
| MAX OUTPUT LEVEL | +10 dBu |
| OUTPUT IMPEDANCE | 1 kΩ |
| Audio Input | |
| --- | --- |
| INSTRUMENT INPUT TYPE | 1/4" Unbalanced TS |
| MAX INPUT LEVEL | +5 dBu |
| INPUT IMPEDANCE | 1 MΩ |
| MIDI INPUT | 5-Pin Din |