Boss SDE-3000D Dual Digital Delay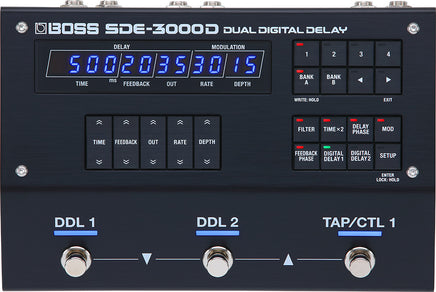 A Vintage Digital Delay Legend, Reborn
Released in 1983 at the dawn of the digital effects era, the Roland SDE-3000 is a hallowed icon among fans of classic gear. With its highly musical character, long delay times, and ability to store and recall presets, this rackmount legend went on to become the prime delay machine for the world's finest touring guitarists, session musicians, and engineers of the time, and its special sound is still revered forty years later.

The SDE-3000D brings you not one but two authentic reproductions of the much-loved SDE-3000 in a floor-based pedal. Fully independent delays, flexible internal routing, and expanded I/O offer modern versatility for all types of mono and stereo rigs. Modulation and tone-shaping capabilities have also been enhanced, and there are 100 memories for storing favorite setups. And with a wealth of onboard and external control options—including deep MIDI support—you can integrate this inspiring vintage voice with any stage or studio setup.
Standard Features
Faithful floor-based reproduction of the legendary Roland SDE-3000 rackmount digital delay from the 1980s
Classic warm digital delay sound with extended features for modern rigs
Distinctive retro display and panel controls based on the original SDE-3000
Includes two full-featured delays, each with independent parameters, mono/stereo modulation, and panning
Widely adjustable delay time with two range settings: 0–1500 ms and 0–3000 ms
Characterful modulation inspired by the original circuit design
Phase switches for the primary delay and delay feedback loop
Adjustable low-cut and high-cut filters for shaping delay feedback sounds
Two inputs and two outputs for dual mono, wet/dry, or stereo setups
Selectable series or parallel operation for the two delays
Save and recall sounds with 100 memories
Assignable onboard footswitch control for tap tempo, hold, and more
Jacks for extended operation with up to four footswitches, two expression pedals, or the GA-FC/GA-FC EX foot controller
MIDI I/O on space-saving mini TRS jacks
For optimal performance, stay up to date with the current SDE-3000D system software.