Authentic Hendrix '68 Shrine Series Fuzz Face Distortion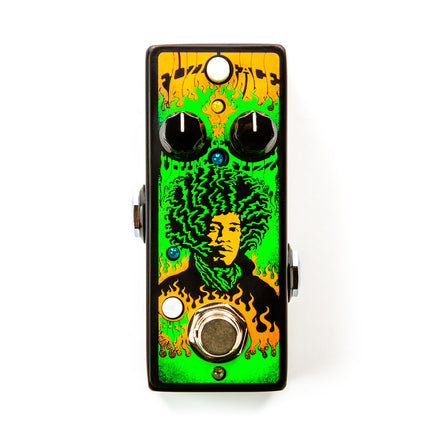 This special edition of the Fuzz Face Distortion pays tribute to the legendary Jimi Hendrix with a custom finish featuring prolific and celebrated rock artist John Van Hamersveld's famous 1968 Shrine Auditorium concert poster art remixed by Simon Berndt of One Horse Town Illustration. Licks of green and blue flame evoke the fiery passion and metaphysical musical experience that Jimi Hendrix gave to the world while psychedelic lettering captures the vibe of the era.
Packed into an MXR mini housing, the Authentic Hendrix™ '68 Shrine Series Fuzz Face Distortion captures two different flavors of Jimi Hendrix fuzz tones in a single mini housing—the aggressive silicon-based crunch that he used in the latter part of his career and the the warm, smooth saturation of germanium-based fuzz that he used in the early years. Choose between the two with the push of a switch. On top of that, this pedal features buffered bypass switching for a greater range of tones and full cooperation with wah pedals such as the Jimi Hendrix Cry Baby Wah—but tonal purists out there will be happy to know that a Buffer switch allows for true bypass switching.