Kala Natural Mahogany Banjo Concert Ukulele Model: KA-BNJ-MHG-C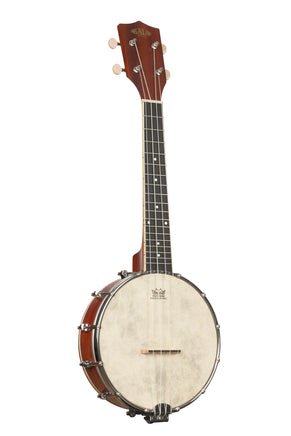 Sorry, this item is out of stock
The Natural Mahogany Banjo Concert Ukulele is a creative application of some of the banjo's beloved characteristics, in true ukulele form!
A new Americana addition for 2022, this model delivers the same "banjolele" charm at a lower price point, with a more overtly rustic look than its Black Maple counterpart. With a twangy tone, mellowed by its nylon strings, this Kala banjolele design is outfitted with a Remo Weatherking® Banjo Head, Natural Mahogany back & sides, a floating bridge, and a custom Banjolele Gig Bag.
Bag and Case Information
Fits Kala Banjo Ukulele bags and cases.
Specs
| | |
| --- | --- |
| SIZE: | Concert |
| NECK: | Mahogany |
| FINISH: | Stained Satin Mahogany |
| FINGERBOARD: | Rosewood |
| HEADSTOCK: | Banjo Standard |
| NUT: | Graphtech Nubone (Natural) |
| SADDLE: | Maple/Ebony Cap |
| STRINGS: | Aquila Super Nylgut® |
| ELECTRONICS: | N/A |
| INCLUDES: | Banjo Ukulele Gig Bag |
| HEAD: | Remo Weatherking® |
| BACK & SHELL: | Five-Ply Maple |
Measurements
Scale Length: 15.0 inches, Overall Instrument Length: 24.25 inches, Shell Diameter: 8.0 inches, Shell Thickness: 0.375 inches, Number of Frets: 18, Fingerboard Width at Nut: 1.38 inches, Fingerboard width at neck/body joint: 1.81 inches