Mosrite Celebrity Bass (Vintage 1960's)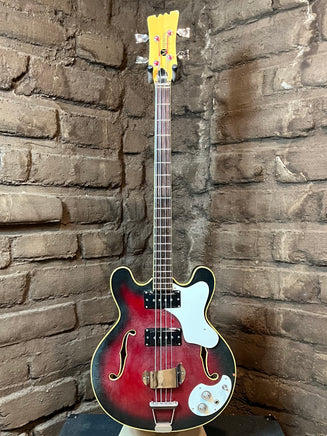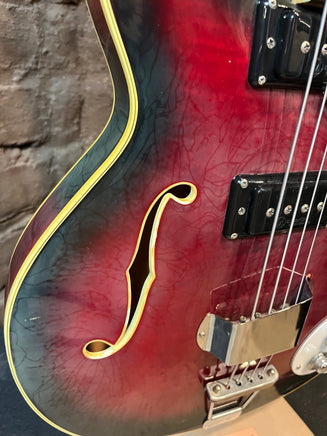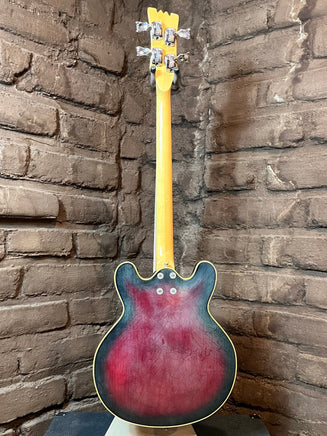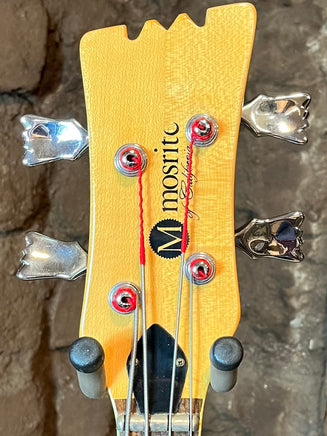 Sweet vintage Mosrite bass.   This short scale bass is from the original owner who acquired in his early years.  All parts are original. It's freshly setup by Kyle here in our shop.  There is some clouding in the finish.  You can see in the pictures.  
These are becoming harder to find and going up in value.  This bass is fun to play and sounds great.  
Since this bass has had one owner, it can speak for itself.  
Mosrite "Celebrity" Bass Guitar
"I am a Mosrite "Celebrity" model bass guitar that was produced at the Mosrite factory in Bakersfield, California, sometime in the late 1960's. Mosrite guitars, such as myself, have always been recognized for their quality craftsmanship, their highly rated components, and their exquisite playability.
Since the brands inception, many musicians and bands have flocked to the Mosrite name and have been using these instruments exclusively in their bands and solo careers. One of the most famous bands that played Mosrite instruments was the instrumental group known as the "Ventures." The Ventures had the monster hit, "Walk Don't Run," that inspired a generation of musicians with its infectious surf beat. Other musicians who embraced Mosrite guitars and basses were C.J. Ramone ("The Ramones"), Lee Dorman (Bass player for "Iron Butterfly") and Kurt Cobain of "Nirvana" fame.
As far as my personal story played out, I was originally purchased in 1969 by a family in Downey, California, for their young son, who was an aspiring bass player. Their son, who was 14 years of age at the time, began playing me in his band called "Hart." The band was named after the band's music teacher (Luke Hart), as a tribute to him.
As the years passed, the young bass player and I became quite proficient working together. As a result, we began playing in bands that worked such venues as, 'Disneyland," "Knott's Berry Farm," "Magic Mountain" and the "Las Vegas Hilton."
As quickly as the young man's bass playing career flourished, it suddenly came to a screeching halt.
I remember, it was the year 1980, and the "Disco Scene" began to gain momentum and popularity. Many of the venues the young man and I were playing at began to transition to disco clubs, where live music was no longer in demand. Because the young man was no longer able to make a living on his salary as a musician, he decided he needed to give up on his musical career and get what is often referred to by musicians as the dreaded, "Day Job."
Sometime around 1986, my best friend put me inside of my guitar case and placed me in his closet, where I spent the next 28 years.
In 2014, my bass player friend suddenly lifted me out of my guitar case and once again began playing me. Although he was now retired and somewhat older, I still recognized his touch and musicality. Together, we began playing club dates again and I felt completely revitalized.
Today, with a heavy heart, my owner has decided he needs to find me a new home so that I can continue on my musical journey of bringing good music to the world.
The only owner that I have ever known (for 50+ years), also hopes that whoever takes me home, will always play me to the best of their abilities and will someday pass me on to another deserving musician."
Sincerely,
Mosrite "Celebrity" Bass Guitar (*Circa 1968-1969)